Special website for students:
Journey North
Journey North engages students in a global study of wildlife migration and seasonal change. K-12 students share their own field observations with classmates across North America. They track the coming of spring through the migration patterns of monarch butterflies, robins, hummingbirds, whooping cranes, gray whales, bald eagles and other birds and mammals; the budding of plants; changing sunlight; and other natural events. Find migration maps, pictures, standards-based lesson plans, activities and information to help students make local observations and fit them into a global context. Widely considered a best-practices model for education, Journey North is the nation's premiere "citizen science" project for children. The general public is welcome to participate.
For more information about eagles in the Upper Delaware River region, or eagles in general, visit these sites:
American Birding Association
americanbirding.org
(click on directory index, select New York or Pennsylvania and click on Eagle Watch!)
Basha Kill Area Association/Nature Watch
PO Box 1121
Wurtsboro, NY 12790
(845) 754-0743
thebashakill.org
Delaware River Basin Commission
Mailing address:
25 State Police Drive
P.O. Box 7360
West Trenton, NJ 08628-0360
(609) 883-9500
state.nj.us/drbc
Delaware Valley Raptor Center
416 Cummins Hill Road
Milford, PA 18337
dvraptors@yahoo.com
If you find an injured, sick or orphaned bird of prey, call us at (570) 296-6025
New York State Ornithological Association
New York State Department of Environmental Conservation
Pennsylvania Game Commission
Sullivan County Audubon Society
Sullivan County Visitors Association
Upper Delaware Scenic and Recreational River
nps.gov/upde/naturescience/baldeagles
U.S. Fish & Wildlife Service
Bald eagle, (Haliaeetus leucocephalus)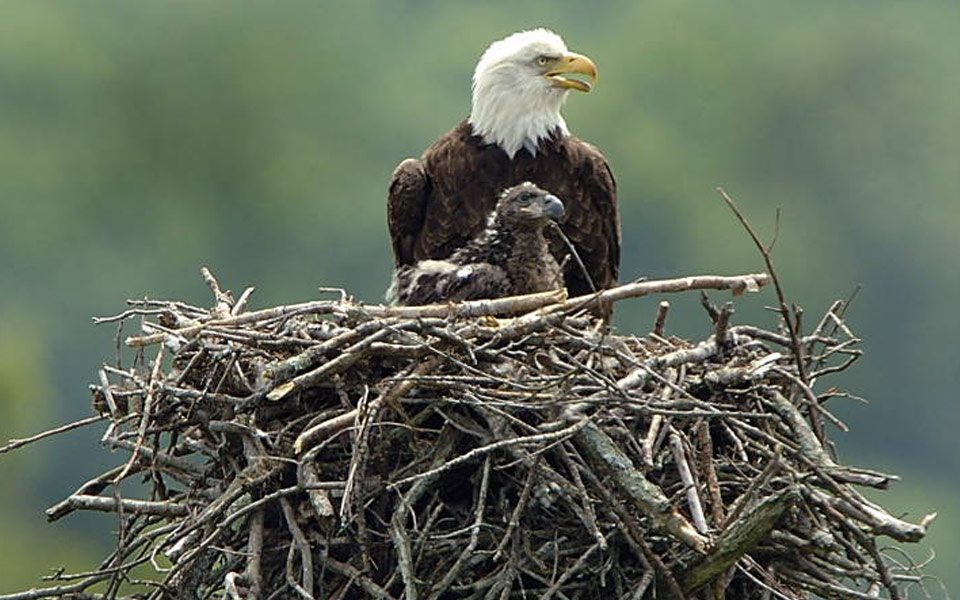 Fact:
The bald eagle's striking white head and tail are unmistakeable identifying characteristics. But did you know the eagle doesn't get its white head until it reaches maturity at about 5 years old.

Save
Save
Save