Why do we offer our Eagle Watch program in the winter?
The answer is simple: That's when the eagles are here!
Every winter up to 150-200 bald eagles migrate to this region. They are seeking a reliable food source and undisturbed habitat so they can survive the cold winter months. When the lakes, rivers and reservoirs north of our region freeze over, the eagles head this way, where open water on the Delaware and Hudson Rivers and the associated tributaries and reservoirs provide a source of fish. Some bald eagles will fly nearly 900 miles from their breeding ground to winter in this region.
In addition, large stands of trees and protected habitat offer perches from which they can hunt, and because the wintering eagles don't build nests here, they rely on the undisturbed tracts of land for nighttime roosting.
Viewing bald eagles that congregate in the Upper Delaware wintering areas has become a popular wildlife-watching activity. Please refer to our Eagle Etiquette and Viewing tips for information on how to identify eagles and for the safest and the least intrusive viewing experiences.
When and Where to View Bald Eagles
Bald eagle viewing during the winter months, from a safe distance and at planned observation sites, can offer an exhilarating and memorable experience. Wintering eagles begin arriving in December; concentrations peak in January and February; most are heading back to their nests by mid-March.
In the Upper Delaware River watershed, well-marked viewing sites are located on the river in Narrowsburg and Minisink Ford, NY, and in Lackawaxen, PA. A viewing blind is located on the Mongaup Falls Reservoir and a viewing area is marked on the Rio Reservoir (Forestburgh, NY). The map shows designated viewing areas in the Upper Delaware watershed.
In New York, eagle viewing also is popular at the Hudson River Iona Island in Westchester County (from the scenic pull-off along Route 6 south of the Bear Mountain Bridge on the east side of the Hudson); Riverfront Park, Peekskill; Constitution Island (from North Dock, West Point); Charles Point/China Pier, Peekskill; George's Island Park parking area, Verplanck and Norrie Point State Park, Hyde Park.
Where to Look: Eagles like to perch in the tops of trees or on the ice at water's edge. Soaring birds can be spotted high in the sky.
When to Watch: January and February are the best times for eagle watching, when the highest numbers of eagles are here. Early morning and late afternoon are the best times of day.
Because eagle watching is done in winter, 
for your own safety:
Be prepared for snow, ice and mud and frigid temperatures.
Dress for extreme cold; avoid hypothermia. Waterproof footwear, hats and gloves are a must!
Bring a Thermos with hot coffee or other warm beverage.
Always pull completely off the road and park in designated areas. Do not stop in the middle of the road if access to the road shoulder is blocked by snow and ice.
To track the migration of the wintering eagles, visit the Journey North website at: learner.org
Golden Eagles
Winter is also a great time to see golden eagles in our region, although they are much rarer. They have never been abundant in the eastern United States, and none are known to be nesting in the region. However, golden eagles have been sighted as they pass through during migration. Golden eagles are sometimes difficult to identify and differentiate from juvenile or immature bald eagles.
For more information on how to identify a golden eagle, visit the Cornell Lab of Ornithology at www.birds.cornell.edu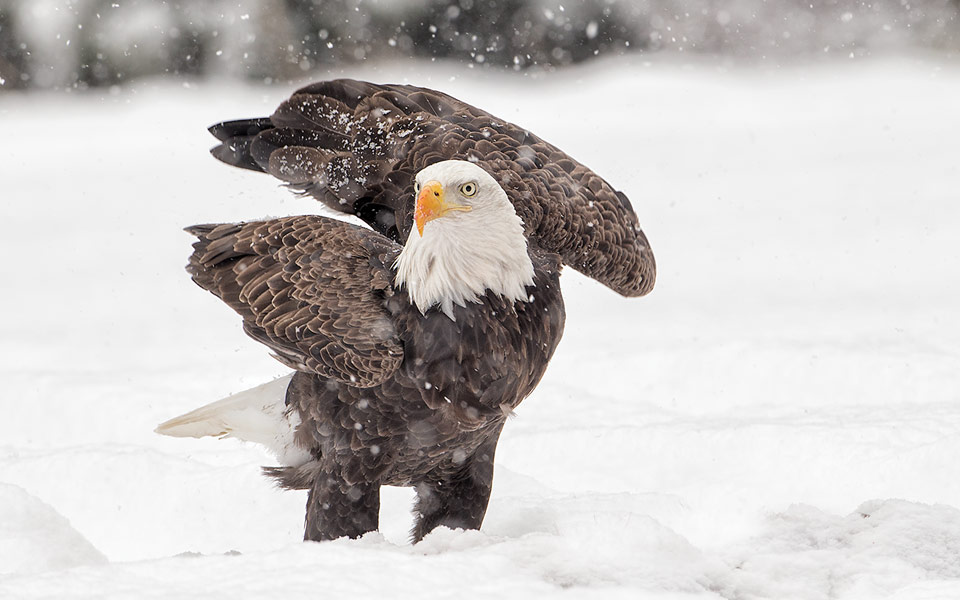 Fact:
These wintering eagles must do more than simply survive the frigid months; they have to be healthy enough to return to their breeding grounds in spring, many from as far away as Canada (900 miles).

Related Info:
Save
Save
Save
Save
Save
Save
Save
Save
Save
Save
Save