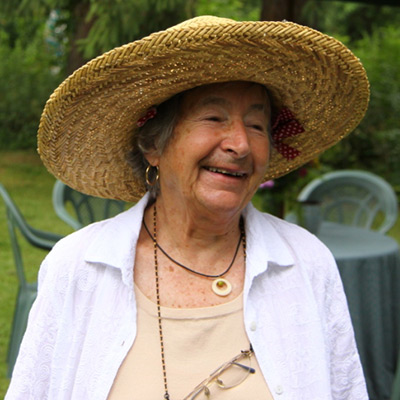 On Saturday, April 11, the Delaware Highlands Conservancy unveiled the newly renamed "Barbara Yeaman Eagle Observation Area." The option to rename the Observation Area was auctioned off at the Conservancy's 20th Anniversary Celebration last November. Top bidders elected to combine their funds to name the blind in honor of the Conservancy's founder, Barbara Yeaman, and her vision for the region.
Donors included Greg Belcamino and Judith Welcom; Michael and Elizabeth Geitz; Grant and Jeanne Genzlinger; Tony and Debby Waldron; and Bill Yeaman, Barbara's son.
Originally funded by supporters of the Eagle Institute, the Barbara Yeaman Eagle Observation Area is located on Route 97 in Sullivan County, NY and is a fixture for residents and visitors looking to view eagles. It is open to the public year-round and is staffed by volunteers during the winter months to help the public view and learn about eagles. Observing eagles from inside an observation blind ensures that the birds are not disturbed by human presence.
For more information about eagle-watching in the Upper Delaware River region
The sign was handcrafted by Ed Falkowski of Eddie's Rustic Wood Signs in Hawley, PA. Photo by Aldo Troiani.
Save